Cycling in Las Vegas, NV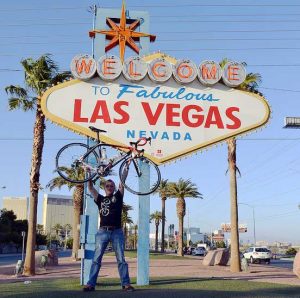 Las Vegas is a city that deserves recognition for the long way it has come towards becoming a bicycle-friendly city. The city had 30 miles of bike lines in 2006. In 2014, it had 444 miles of bike lanes, as well as 102 miles of paved off-street facilities. That, coupled with the fact that it has an excellent climate for cycling, and that the area surrounding it guarantees some pretty impressive rides, makes it look like Las Vegas is going to be just fine regarding bicycle-friendliness. It still has a relatively small number of cycling commuters, but it does show a lot of promise to grow.
Best Bicycle Shops in Vegas
Along with the infrastructure and number of cyclists, Las Vegas might also need to do something about the number of bike stores it has. Their numbers might suffice to cater to the cycling community of the city at the moment, but just like the number of cyclists are rising, so should the number of bike stores.
But what we can say for now is that we've picked the very best of Las Vegas bike stores, and put them into a list. There were only one criterion they had to meet to get on the list – they had to have an excellent reputation with
Loading map...

| | | |
| --- | --- | --- |
| Company Name | Address | Score |
| The Vault Bicycle Shop | 7575 Norman Rockwell Ln Ste 120 Las Vegas, NV 89143 | 4,97 |
| Vegas Bike Store | 3955 S Durango Dr Ste B1 Las Vegas, NV 89147 | 4,86 |
| Bike Worx | 845 W Craig Rd Ste 103 North Las Vegas, NV 89032 | 4,81 |
| Peloton Sports | 911 N Buffalo Dr Las Vegas, NV 89128 | 4,70 |
| Irwin Cycles | 10080 W Tropicana Ave Ste 165 Las Vegas, NV 89147 | 4,61 |
| Southwest Bikes | 7290 W Azure Dr Ste 110 Las Vegas, NV 89130 | 4,56 |
| REI | 710 S Rampart Blvd Las Vegas, NV 89145 | 4,14 |
| Bike World | 2320 E Flamingo Rd Las Vegas, NV 89119 | 4,11 |
| Mcghie's Ski, Bike & Board | 4035 S Fort Apache Rd Las Vegas, NV 89147 | 3,91 |
Las Vegas Cycling News