Cycling in San Diego, CA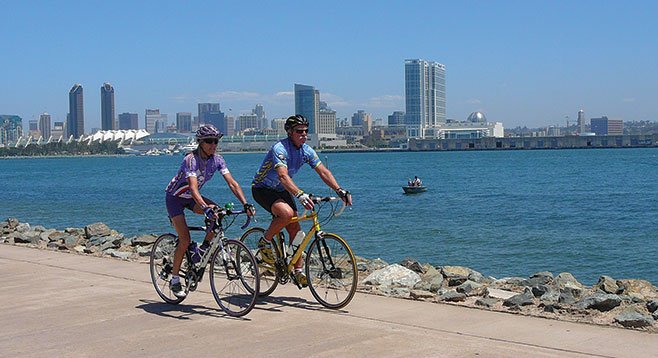 There's plenty to be looking forward to if you're a bike enthusiast living in San Diego. Not that the city doesn't have a lot to offer to its cycling residents at the moment, as there's a strong cycling culture in the city, peppered with cycling events, routes, bike exchanges and clubs. But if you look at the plans to promote cycling in San Diego, you'll see where it gets exciting. The Regional Veloweb, which consists of more than 300 miles of existing off-road paths accessible to cyclists, pedestrians, and other non-motorized, active-transport practitioners, is set to be expanded to a total of 1,728 miles.
Best Bicycle Shops in San Diego
It's not a surprise that in the city which has bicycles on the minds of both its residents and its governors, bike shops are a type of business that's in an expansion. You can be a beginner or a seasoned cyclist, you can be young or old, hi-tech mountain bike rider or low-tech vintage bike lover – you'll find a bike that suits your needs in San Diego shops.
These are some of the best cycling shops you'll find in an Diego. Of course, the list is not definitive, and you can find great shops that didn't make it on our list. But those that did will offer you excellent service, and they'll be invaluable to you as you cycle on the ever-expanding routes and trails of San Diego.
Loading map...

| | | |
| --- | --- | --- |
| Comapny | Address | Score |
| Anywhere Bicycle Repair | 7292 Opportunity Rd Ste A San Diego, CA 92111 | 4,74 |
| Pacific Beach Bikes | 1852 Garnet Ave San Diego, CA 92109 | 4,59 |
| Cal Coast Bicycles | 3020 Adams Ave San Diego, CA 92116 | 4,57 |
| Moment Bicycles | 2816 Historic Decatur Rd Ste 135 San Diego, CA 92106 | 4,56 |
| Cheap Rentals Mission Beach | 3689 Mission Blvd San Diego, CA 92109 | 4,56 |
| North Park Bikes | 3022 N Park Way San Diego, CA 92104 | 4,56 |
| Ye Olde Bicycle Shoppe | 6195 University Ave San Diego, CA 92115 | 4,55 |
| Ray's Rentals | 3221 Mission Blvd San Diego, CA 92109 | 4,55 |
| Pacific Beach Bike Shop | 1277 Garnet Ave San Diego, CA 92109 | 4,54 |
| The Bike Revolution | 522 6th Ave San Diego, CA 92101 | 4,52 |
| Pulse San Diego | 7638 Clairemont Mesa Blvd San Diego, CA 92111 | 4,52 |
| Adams Avenue Bicycles | 2602 Adams Ave San Diego, CA 92116 | 4,26 |
| San Diego Bike Shop | 619 C St San Diego, CA 92101 | 3,94 |
| Performance Bicycle | 3619 Midway Dr. San Diego, CA 92110 | 3,92 |
San Diego Cycling News