Cycling in New York, NY
There's something strange going on with New York and cycling. On one hand, the city has been on the receiving end of many accolades for being a very bicycle friendly city. On the other, cycling advocacy groups have been warning that cycling in New York is not the safest activity. The city has the largest population of cycling commuters in the US – which is to be expected given that it is the most populous city in the country. It also features around 500 miles of bike lanes, trails, and routes. But it's a city where thousands of cyclists get injured each year, so the very least that could be said about New York and cycling is – it's a place where cyclists are fighting for their right to pedal safely.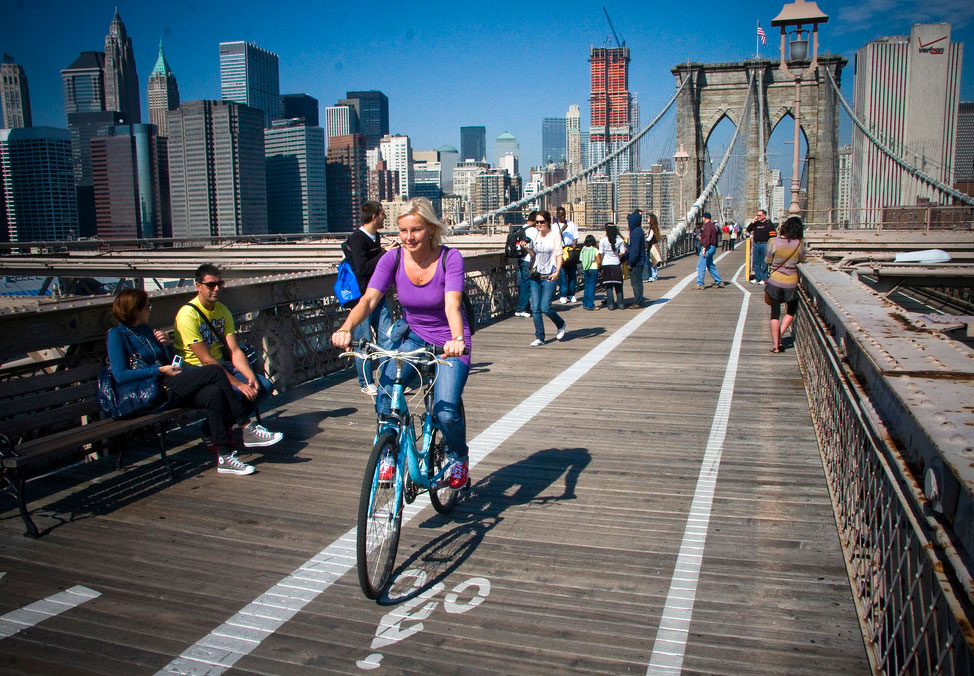 Best Bicycle Shops in New York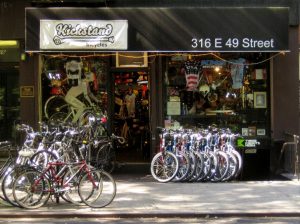 New York is a city where the whole world meets, a city of innovation and appreciation of the old, a city of creative people and those who choose for the classic. The bike shops in New York reflect all the cultures that exist in the city.
If there ever were a city with too much bike shops to count, it would be New York. Still, we managed to make a list of the shops in the city which have a good reputation for providing exceptional service to their customers. And we also encourage you to rate any New York bike shops you had the chance to visit.
Loading map...

| | | |
| --- | --- | --- |
| Company Name | Address | Score |
| Kickstand Bicycles | 316 E 49th St, New York, NY 10017 | 4.91 |
| Bike Slug | 1050 Bedford Ave, Brooklyn, NY 11205 | 4.91 |
| Zen Bikes | 134 W 24th St, New York, NY 10011 | 4.89 |
| Bfold Folding Bicycles | 224 E 13th St New York, NY 10003 | 4.79 |
| Waterfront Bicycle Shop | 391 West St New York, NY 10014 | 4.74 |
| Larry's Freewheeling | 301 Cathedral Pkwy New York, NY 10026 | 4.60 |
| Bay Ridge Bicycle World | 8916 3rd Ave Brooklyn, NY 11209 | 4.56 |
| Bicycle Station | 171 Park Ave Brooklyn, NY 11205 | 4.55 |
| Bicycle Habitat | 250 Lafayette St New York, NY 10012 | 4.55 |
| Red Lantern Bicycles | 345 Myrtle Ave, Brooklyn, NY 11205 | 4.54 |
| 718 Cyclery | 254 3rd Ave Brooklyn, NY 11215 | 4.53 |
| Roy's Sheepshead Cycle | 2679 Coney Island Ave, Brooklyn, NY 11235 | 4.53 |
| Silk Road Cycles | 76 Franklin St Brooklyn, NY 11222 | 4.52 |
| Ride Brooklyn | 468 Bergen St Brooklyn, NY 11217 | 4.50 |
| Danny's Cycles | 1690 2nd Ave New York, NY 10128 | 4.41 |
| Bicycle Repairman Corp | 40-21A 35th Ave Astoria, NY 11101 | 4.41 |
| Master Bike Shop | 265 W 72nd St New York, NY 10023 | 4.36 |
| Al's Cycle Solutions | 693 10th Ave New York, NY 10036 | 4.29 |
| NYC Velo | 64 2nd Ave New York, NY 10003 | 4.14 |
| Tony's Bicycles | 35-01 23rd Ave Astoria, NY 11105 | 4.11 |
Cycling News across New York