Cycling in Denver, CO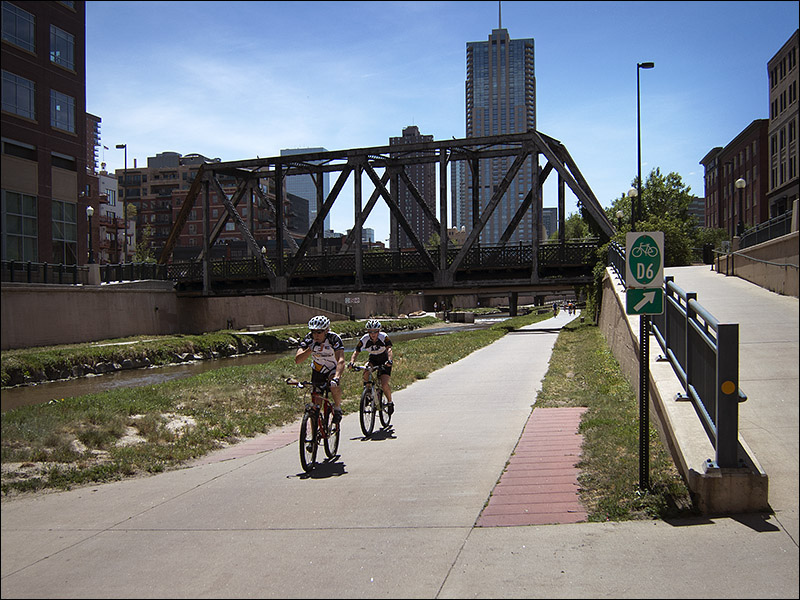 Denver, CO is a city that holds many joys for cycling enthusiasts. The city has 39 miles of sharrows, 130 miles of bike lanes, and a very active cycling community which accounts for 2.5% of the total number of residents. The 100 miles of multi-use trails and over 400 miles of bike routes are another critical component in Denver's bike-friendly reputation. Cycling on the streets of the city is great, but the off-street cycling in the area surrounding the city gives it a unique place on the bike map of the United States.
Best Bicycle Shops in Denver
Because Denver is a city with a sizeable cycling population, it's natural to expect that it will have a significant presence of bike shops in the city. And there surely are plenty of them – some focus of repairing bicycles, others carry goods from different manufacturers and brands, and some choose to focus on a single brand.
Choosing the best bike shops in Denver is not an easy task – there are a lot of players on the market and plenty of them seem to be offering top notch services. We've chosen some of the best bike shops to present to you here. If you have experience with any of these stores or any that didn't make the list, always try to give them an honest review.
Loading map...

| | | |
| --- | --- | --- |
| Colorado Cycling Connection – Highlands | 3316 Tejon St Ste 101 & 103 Denver, CO 80211 | 4.95 |
| CoCo Bikes | 932 Inca St Denver, CO 80204 | 4.94 |
| Velowood Cyclery | 2526 E Colfax Ave Unit C Denver, CO 80206 | 4.91 |
| Jinji Cycles | 2538 W 32nd Ave Denver, CO 80211 | 4.85 |
| Bikes Together | 2825 Fairfax St Denver, CO 80207 | 4.83 |
| Velosoul Cyclery | 1109 S Pearl St Denver, CO 80210 | 4.74 |
| Pedal | 2640 W Belleview Blvd Ste 100 Littleton, CO 80123 | 4.74 |
| Chocolate Spokes Bike Studio | 2801 Downing St Denver, CO 80205 | 4.73 |
| The Urban Cyclist | 3519 Brighton Blvd Ste E Denver, CO 80216 | 4.53 |
| Denver Bicycle Cafe | 1308 E 17th Ave Denver, CO 80218 | 4.50 |
| Campus Cycles | 2102 S Washington St Denver, CO 80210 | 4.44 |
| Cycleton Denver | 7480 E 29th Ave Denver, CO 80238 | 4.43 |
| Bicycle Doctor/ Edgeworks | 860 Broadway Denver, CO 80203 | 4.28 |
| The Bicycle Broker | 6190 W 38th Ave Wheat Ridge, CO 80033 | 4.28 |
| Sports Plus | 1055 S Gaylord St Denver, CO 80209 | 4.09 |
| Turin Bicycles | 700 Lincoln St Denver, CO 80203 | 3.97 |
| Singletrack Factory | 1005 S Gaylord St Denver, CO 80209 | 3.93 |
| Performance Bicycle | 6570 S. Yosemite St. Greenwood Village, CO 8011 | 3.78 |
Denver Cycling News