Bianchi Bike Review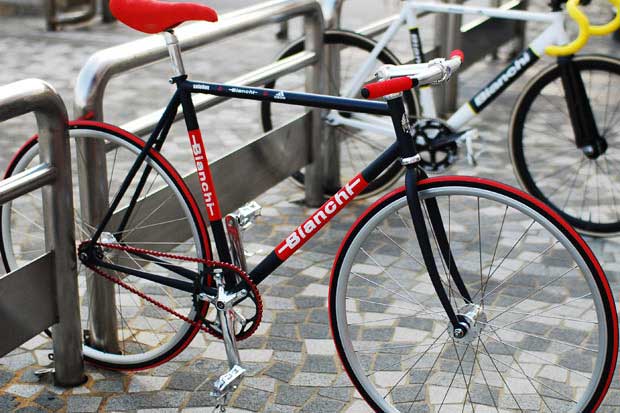 Bianchi is the oldest bike company in the world. The products from this company have gained popularity and are used in a lot of countries. Bianchi was started in 1885, in Italy and produced bikes and motorcycles and later cars. Motorcycle and automobile production were stopped but the company still makes and sells bicycles in different categories. This is a simple gesture indicating that you will always get the best of bikes from Bianchi. The company was started by a 21 year old instrument maker in a small shop. This company was the pioneer of the front caliper brakes that have been widely used in the bike industry.
With the great experience of over a century, Bianchi is one of the top bike companies in the market. The bikes are constructed using the best technology and this explains why they are popular in different uses. If you are looking for a strong bike with parts built by a company that has been in this business for over 100 years, then you might want to consider choosing a Bianchi bike. There are important things that you should consider in every bike brand and the following are specifications and crucial details about Bianchi fixed gear bikes.
Bike Design
The fixed gear bikes from Bianchi are designed to be simple and light. Because they do not need the gears and many other components, the bikes are simple and light in weight. The fact that there are no gears means that the bike will have a tighter chain and this means you will feel the immediate conversion from the pedal to the wheel. This is because there will be no chain lag that is usually brought about by the many gears. The only downside to this is that riding uphill will be a great challenge and you might not achieve top speeds as it is the case with gear bikes.
The fixed gear bike does not come with a free wheel. The pedals will move as long as the wheel is moving and this included backward movement. The Bianchi fixed gear bikes are constructed using the track racer design only that it is a little bit compromised to make it road ready and to meet the needs of fixed gear lovers. The design is therefore not complex and you can expect to see a simple basic bike that is all about the frame, and the wheels. Bottom line, the Bianchi fixed gear bikes are attractive to look at for people who love the fixie bikes.
Riding Experience
The Bianchi fixed gear bikes are quite light and strong. They are constructed using double butted steel frames and though this makes them a little bit heavy, you will not feel the weight as you ride the bike. Bianchi gives the bikes intuitive and agile handlebars that are not too quick. The high responsiveness is a result of the bikes track geometry, engineered tubing profile and short wheel base. You do not need to manhandle the bike to achieve great results, you only need to handle it neatly and it will respond well to the distribution of weight.
The bike is not fast in handling and will not have twitchy brakes. You will fine if well balanced on a straight line and the turning will also be quite impressive. This bike comes with a drop bar handlebar and even if you are not used to this handle bar, you might find this bar to be pretty good. Generally, you will love how the bike rides and its simplicity is a great thing as far as the fixie culture is concerned.
Fixed Gear/Single Gear
If you are a rider who loves what the fixed gear bike offers and appreciate the free wheel offered by the single gear bike, you will love the Bianchi fixed gear bike. The bike comes with a flip flop hub which allows you to enjoy both of these worlds. You can change from the fixed gear cog to the single gear cog when you miss the free wheel that allows you to coast. This is useful when you are dealing with steep drops or when you just do not want to move your feet with the pedals when it is unnecessary.
Gearing
Bianchi fixed/single gear bikes come with a 48/16 gear ratio. This ratio, when combined with a 700c wheel will ensure that you cover a longer distance with every single pedal. The gearing ratio give s you the ability to pedal faster on flat terrain but you will have a difficult item when pedaling uphill because the chain will be tighter and the ratio does not support uphill moving. If you live in an area that has more flats than climbs, you will love riding this bike.
Frame
The Bianchi fixed gear bike comes with a chromoly steel frame which is designed for high speed. This frame is not the lightest in the market but it is strong and not too heavy to handle. The bike comes in different sizes and you will get the 61, 59, 5 55, 53, 51 and the 49 cm bike. Chromoly frames are perfect for street bikes and can be compared to aluminum, titanium or carbon frames.
Pricing
Bianchi Bike Company has been around for many decades and you can expect that their prices are not the cheapest in the market. There is always something about old companies that results in a high or mid-range price tag. Bianchi fixed gear bikes are available at about $550. This depends on where you buy the bike and the type of bike you are interested in.
Warranty
Bianchi offers a warranty for material defects and workmanship. You will however need to provide the proof of purchase. Currently the terms and conditions state that any bike made in 2011 and newer has a frame warranty of 5 years for all materials. Bikes made between 2006 and 2010 have a 10 year warranty for the titanium and the non RC steel frames. You will get a 5 year warranty for carbon, RC steel and Aluminum frames. For more information on the bikes manufactured in 2005 and earlier, you can have a look at the company website.
Bianchi Bike Pros
The Bianchi bike offers a value for money because you get a high quality bike for an inexpensive price tag.
The bike is simple, functional and easily customizable.
Bianchi bike company is reputable especially because it has been around for more than a century and you can always depend on the quality of bikes they offer.
The bike is agile and highly responsive in low and high speeds.
Bianchi bikes are cool looking and work great for the fixie bike culture.
Great geometry for road riding.
With 5 years warranty on all frames, Bianchi is among the few companies that offer a customer-friendly warranty. Since the company is old, they know that their bikes will last for more than 5 years.
Bianchi Bike Cons
Users have complained about a noise coming from the BB/crank area.
People who have bought the bike have pointed the pedals as being one of the main disappointments because they are c-grade parts on an A-grade bike.